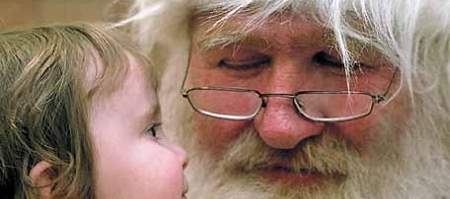 Christmas Past
by Robert-James Collingridge on December 15th
To anybody under the age of forty this reminiscence will seem as alien as MP3's or Twitters do to me. But the difference in marketing, ideas, designs and indeed products to help celebrate Christmas either commercially or domestically have changed almost as much as technology.

Before mobile phones became rampantly invasive (or useful depending on your viewpoint) one of the major Christmas flowers and plants were Chrysanthemum blooms. Not the multi headed products which are available all the year round, but what were, basically disbudded sprays which encouraged the plant to produce one large head on a thick stem. Of course, it was not quite so simple as that, there were different varieties for each type, and indeed, as growing was more natural in these days, varieties for almost every month of summer and autumn. It was only with difficulty and skill that growers could produce some of their finest blooms for the Christmas market.

The most sought after, the most beautiful and consequently the hardest to produce was called American Beauty. It was mainly produced in the South of England 30 or 40 years ago, and the slightly warmer climate resulted in the growers wearing out their kneepads praying for cold weather to hold back their crop for the Christmas market, which is only really for 10 days a year!!

American Beauty was either White or Yellow and if cut at the proper time was an almost perfect ball shape. It was also necessary to stunt the plant slightly to produce a stem strong enough to support the flower!!

The Northern producers wore out their knee pads praying for milder climes to stop their crop from maturing in January, where it not only missed the premium market but also suffered from a decline in quality and formation of the flower.

Sadly, like most things from those days, there are very few producers of this marvellous variety left and finding the product is quite difficult.

There were also other varieties of chrysanthemum spray which would flower for the Christmas market in natural (but protected) environments. The most notable was a family called Elegance.

In those days the wholesale markets were the main sources of distribution of the other Yuletide staples, Christmas trees, holly and mistletoe. Nowadays every man and his dog, from the major supermarkets to garages seems to be involved. It is difficult to envisage the market being satisfied 30 years ago by just the wholesalers.

Holly wreaths and chaplets, once upon a time a rural cottage (or caravan) industry which provided a Christmas income for some of the less privileged but fiercely independent country workers and their wives has been overtaken with Chinese plastic replicas.

Mistletoe auctions (and holly as well) are still a regular annual feature in Herefordshire, and long may they remain so, So some traditional methods still persist to please miserable old men like me!

Christmas past also brought us the harbingers of what we hoped would follow soon, Spring. Daffodils and tulips, although making an entrance perhaps in November only gained in quality actually for Christmas before becoming part of our floral lives through Valentines Day, Mother's Day and Easter. Nowadays tulips can be virtually all year round, and daffodils and narcissus for perhaps 7 or 8 months. There is no real pleasure to be seen in new arrivals.

The isles of Scilly played a bigger part then, than they do now, with their beautiful outdoor jonquil narcissus sometimes being available from October, and certainly they are in full glory at Christmas. Likewise, flowers from the Channel Islands used to flood in, the most memorable for me was Guernsey freesia. Grown, like the Isles of Scilly production by a multitude of small part time growers, the beauty and fragrance of this product are forever engraved on the memory as being infinitely superior to the factory farmed Dutch equivalent, which is really a different product, longer stems, clearer colours maybe, but definitely none of the beautiful perfume which would flood your living rooms then.

Nowadays, a lot of the marketing and purchasing is done over the internet and this probably has more advantages that disadvantages. Most of these businesses want your repeat business, and most, like Clare Florist, takes pride in their quality of produce and delivery achievements being able to transfer their floristry ability into nationwide home delivery.

Some of the other products marketed as Christmas add ons do leave me gasping rather, although in the end I do have to admit that sometimes some of the modern ideas are indeed attractive and innovative. The idea of dipping twigs in paint and glitter was anathema for some time, until artistic creativity made them into something else. Look for some on the web (OK, I admit to looking on it sometimes) from some of the sites of the leading designers. www.planetflowers.co.uk is one of my favourites, but I do know the boss!!

So looking back on the above, I seem to have been far less than a Scrooge than I thought I would be when I set out this scribble, so perhaps the Christmas spirit can even reach curmudgeonly moi!!

Seasons Greetings for whenever you read this!
Welcome to Flower Experts
Written for you by flower experts, giving you tips and advice on everything flower related. Read interesting flower facts and news.
Send Christmas Flowers
Latest News