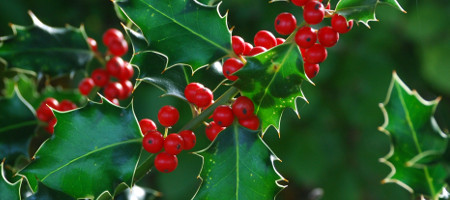 Holly at Christmas time!
by Flower Experts Editor on December 17th
Can you imagine Christmas with no holly and no red berries? They top our beloved Christmas puddings and brighten up each wreath hanging on our front doors. All the birds who are brave enough to be flying around in this chilly weather just love the tasty berriies too!
Holly comes in various colours not just in green and with over 280 different species of holly recorded you are bound to find one you like.
Our most well know and popular UK holly is (Ilex aquifolium) and is most commonly associated with our Christmas holiday. It has a shiny and glossy foliage and can make a stunning impression both inside your house and out. Hollies also look splendid when they are trimmed into topiary designs and can also be planted in containers or just as easily be planted within the garden. With so many to choose from my preference is 'Handsworth New Silver' which has wonderful leaves surrounded by a beige border. 'Madame Briot' is also a favourite with mauve stems and big spiky leaves tipped with gold. Whichever one you choose holly is always going to be a UK favourite at this time of year for both us and our feathered friends, so if you feel that would be a great addition to your garden, why not get some locally today alternatively, Yuletide Christmas Wreaths make a lovely welcoming for all your family and friends.
Tags: holly, red berries, madame briot, handsworth new silver, christmas, yuletide, wreaths
Welcome to Flower Experts
Written for you by flower experts, giving you tips and advice on everything flower related. Read interesting flower facts and news.
Send Christmas Flowers
Latest News