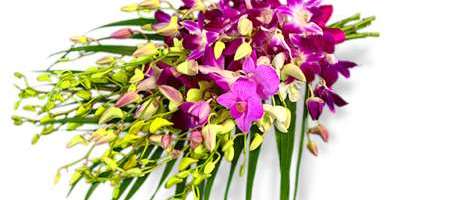 Dendrobium Orchids
by Brian Nisbet on March 16th
Dendrobium Orchids are very popular in Europe but they are mainly produced in the Far East because they need a warm climate in which to grow at their very best. They are mainly grown in South and South East Asia. The Philippines, Borneo, Australia, New Guinea,
Solomon Islands and New Zealand are also places where the Dendrobium Orchid is grown but not in the same quantity as they are grown in Thailand, Singapore, Malaysia and Indonesia.
In 1799 Olaf Swartz established the Dendrobium breed of Orchid, which flourishes best in the warmest climates. There are now over 1,200 species which are traded worldwide. The European market has a particular demand for these orchids and as a result more countries are entering the cut flowers market. Hawaii is beginning to grow Dendrobium orchids and trade abroad. In Europe, however, there are no plans to grow this plant as the soil and climate is not conducive to growth therefore this market will always be one of demand,
rather than a supplier, of this plant. Orchids are very popular at weddings, therefore many florists and wedding planners need them for business in Europe.
The biggest supplier to the European cut flower market is Thailand, which has the fourth largest yield in the world due to innovative plant technology. The country has invested in this as the Dendrobium Orchid has brought wealth and fame to Thailand. In 1966 they supplied a few European countries but due to pest control, tissue culture, green houses, packaging and post harvest and the growth of world trade today they supply large volumes to the whole of Europe.
Welcome to Flower Experts
Written for you by flower experts, giving you tips and advice on everything flower related. Read interesting flower facts and news.
Send Christmas Flowers
Latest News