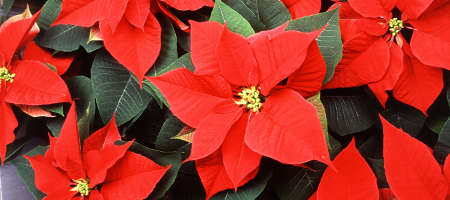 Poinsettia
by Barry Marshall on November 14th
Poinsettias are commercially produced predominantly in Europe and America. In Europe they produced in the UK, Holland and Belgium. However, the biggest producers of poinsettias are in the States. A poinsettia grower in California supplies two thirds of the world's poinsettias. Another large producer in Mexico also supplies in high volume. There are three other major suppliers of poinsettias in the world and all three of these are in Europe.

When this flower is grown in bulk it can be more cost effective as plants can be raised from stock, using 5-8 centimetre rooted plant cuttings rather than seed. However the plant needs a warm environment which is why it fares better in the European than UK climate. It also means that the quality and quantity grown in the UK is lower as poinsettias are not cost effective grown in small quantities and they need heated greenhouses in the UK. They do not grow in such density either in the UK although new research from Warwick University in 2006 may change this and enable the British growers to be more competitive.

In the European countries, however, which import to the UK, there are a variety of breeds of poinsettia. There is the Advent Red, Freedom Early Family and more recently a white breed of the flower called the Cristallo. There are a variety of colours produced in Holland and Belgium and these are often imported. They are grown in greater density and greater quality and colour than in the UK which is why they have proved more popular in this area of the world.
Welcome to Flower Experts
Written for you by flower experts, giving you tips and advice on everything flower related. Read interesting flower facts and news.
Send Christmas Flowers
Latest News