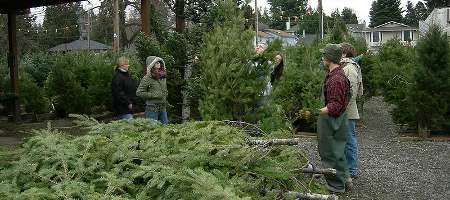 Christmas Tree Sales
by Brian Nisbet on December 4th
Christmas trees are sold by various retailers in the UK. However the sale of these trees has changed over the years. While trees used to be sold on local markets and auctions or bought directly from growers the retail market has changed. The main suppliers of Christmas trees include supermarkets, garden centres, forestry centres and small independent stores.
US sales differ to the UK in that they are concentrated by the growers. There are a few growers who supply all of the US with around 5-10 million trees. These trees are home-grown therefore with little in the way of import (although there is some export) these large commercial forests supply the majority of the US demand.
In the UK much of the trees are imported and sold at supermarkets and other large retailers. These trees come from Denmark and the rest of Europe. While supermarkets also stock and sell artificial trees these imports are also popular and are imported and sold in mass. Around 1 million are imported but grown in the UK are popular versions of the Christmas tree including Noble Fir, Nordman Fir, Frasier Fir, Norway Spruce and the Scots Pine. Special Christmas Tree Plantations often sell these. They are becoming increasingly popular as it is the most sustainable approach to harvesting these trees. You can often choose one and ensure that it is replaced and get advice on replanting and so on. However they still do not sell as much in volume as supermarkets currently although this could change. They are overtaking small independents, however, which do not have the space or resources to sell Christmas trees en masse. If space or time to decorate a tree is difficult then you can always settle for a festive fresh holly wreath to hang on your door!
Tags: retailers, christmas trees, home-grown, noble fir, nordman fir, frasier fir, norway spruce
Welcome to Flower Experts
Written for you by flower experts, giving you tips and advice on everything flower related. Read interesting flower facts and news.
Send Christmas Flowers
Latest News