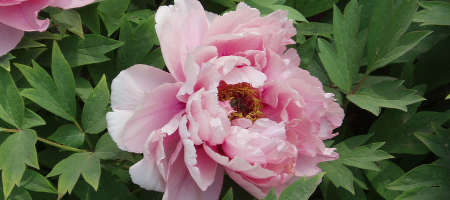 Peonies
by Kerry Joyce on June 29th
Peonies have been around for centuries. Today they are a hugely popular flower with a world wide history. The Chinese chose it as the principal flower in the Imperial Palace Gardens naming it the 'Sho Ya' whereas the Japanese developed 300 varieties of the species, as they liked it so much, in the 8th Century. In the 19th Century the European gardens began to feature peonies and it became very fashionable to feature them in Victorian times.
Today Europe, Asia and North America grow the peony to sell to the world cut flower market. The peony commercially is very viable as it is easy to grow. It is seen as very rewarding to grow for commercial businesses as it is long lasting with and excellent range of colourful blooms. These blooms are very popular in countries such as France. Peonies, themselves, are a great cut flower in large floral arrangements and weddings. This gives them commercial value all over the world as weddings are performed in many cultures with flowers as a traditional accompaniment.
Peonies have been traditionally grown in open plots and net houses. There are two main varieties of peony: herbaceous and tree. Tree varieties are far better for the cut flower market, therefore these are mainly produced for commercial purposes. Farms in the UK are beginning to produce peonies also and could begin to export to other countries. The demand for wedding flowers has increased steadily throughout the years, therefore there is room for new market entrants as the peony market itself is not dominated by a given country and is a popular product.
Welcome to Flower Experts
Written for you by flower experts, giving you tips and advice on everything flower related. Read interesting flower facts and news.
Send Christmas Flowers
Latest News