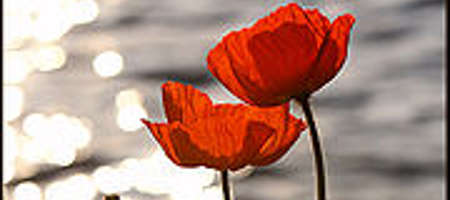 Remembrance Day Poppies
by Flower Experts Editor on November 7th
The choice of the poppy flower as the symbol for Remembrance Day stems from its mention in the poem 'In Flanders Fields' by Canadian army doctor John McCrae. Flanders, the scene of some of the most dreadful fighting in the First World War, was often blanketed in poppies whose red colour was een as a fitting symbol for the blood shed in the gruesome world of trench warfare.

World War I is often referred to as the Great War, which is a label that can only be attributed to the conflict in terms of magnitude rather than magnificence. Indeed, more than 16,500,000 people (including soldiers and citizens) died during World War I and some 20,000,000 soldiers were injured. Whilst the statistics make for a decidedly depressing read, the scale of human suffering that resulted from the conflict could never be given justice by mere facts alone. The numbers, however relevant in a factual context, do not speak for the millions of individuals who died in a war that will be forever remembered for its sheer futility.

Nevertheless, on the eleventh hour of the eleventh day of the eleventh month in 1918,
Germany signed the Armistice a treaty drafted between the Allied and German forces to mark the end of the First World War on the Western Front. The significance of this event was such that actual fighting was brought to end in World War I, although it was not until the Treaty of Versailles that peace was formalised. In fact, it could be argued that the true significance of the Armistice and, subsequently, the Treaty of Versailles, was to precipitate the Second World War, as the treaties ultimately played a role in the powerful nationalism that later swept through Europe.

Today, Remembrance Day is regarded as an opportunity to commemorate the dead not only from World War I but from all conflicts. Although officially observed by the Commonwealth of Nations, Remembrance Day serves as a useful reminder that human suffering and tragedy are the only real victors of war. Therefore, it is now customary for people to wear poppies on Remembrance Day and the days leading up to the event as a mark of respect for all those who have fallen in past conflicts.
Welcome to Flower Experts
Written for you by flower experts, giving you tips and advice on everything flower related. Read interesting flower facts and news.
Send Christmas Flowers
Latest News