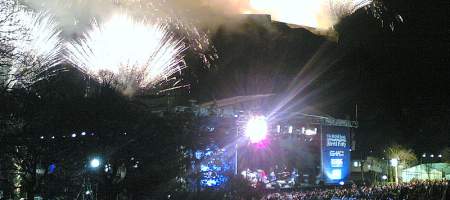 Happy New Year 2015!
by Flower Experts Editor on January 3rd
The celebration of the New Year, as based on the Gregorian calendar and spread by the growing western world culture, was celebrated on the 1st January 2015. Traditionally, ceremonies are held on New Years Eve (31st December) and involve the gathering of friends and family to 'see in' the New Year.

Many folklore traditions have stood the test of time, albeit with some minor adaptations! For example, in Pagan times people used to make lots of loud noise at the chime of midnight! This usually involved shouting or banging objects together! This was meant to ward off bad spirits from the previous year and welcome the New Year in a fresh! Nowadays, people gather in their homes, in pubs, clubs, or at street parties and cheer together at midnight. They kiss and embrace friends, families and strangers! It is also common practise to cross arms and hold hands with those nearest you, as you sing Auld Lang Syne and see the New Year in by behaving in a merry fashion!

In Scotland people often observe the tradition of 'first footing'. Whereby the first person to enter your house bestows a small gift, such as flowers (heather) whiskey or cakes to wish you good luck in the new year. This tradition of giving small gifts to friends and family is carried throughout the world. As in Scotland, small token presents such as flowers, candy, biscuits or alcohol are seen as appropriate.

In California, much like elsewhere in the world, New Year is seen in with grand parades. The parade floats are decorated with fresh flowers, celebrating an artistic representation of the ripening of Oranges!

The most common New Years Eve celebration is that of firework displays. From Edinburgh, to Sydney, London to New York, these extravagant events are usually televised, but witnessed in person by thousands of party revellers wishing to cheer in the New Year!
Welcome to Flower Experts
Written for you by flower experts, giving you tips and advice on everything flower related. Read interesting flower facts and news.
Send Christmas Flowers
Latest News