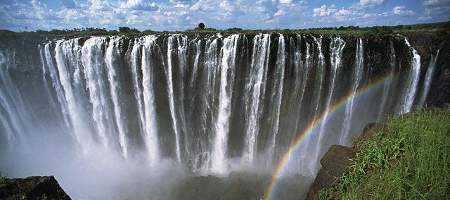 Flowers from Zambia
by Kerry Joyce on June 4th
Horticultural exports is one of the fastest growing industries in Zambia and an important component of its export base. Zambia's floriculture industry is vastly dominated by the production of roses, which comprise nearly 95% of the country's flower exports. Other flowers produced in Zambia include atriplex, amaranthus, Ammi majus, hypericum, rudbeckia, euphorbia and bupleurium.

The primary market for Zambia's flower export industry is within Europe, with Dutch auctions accounting for the sale of more than 98% of the roses. This is especially so in the European winter when local production of roses stops. Zambia produces over 60 varieties of roses, including such varieties as Arifa, Astra, Arabia, Baronesse, Blue Curiosa, Calibra, Chelsea, Circus, Cream prophyta, Dani, Dream, Duo unique, Enigma, Escada, Fashion, Femma.

The Zambian government has been proactive in encouraging the growth of its floriculture export industry, on several fronts. It has established a trust in conjunction with export growers to educate farmers in the safe use of agricultural chemicals and worker safety.
These measures have not only ensured the sustainable growth of the industry by bringing greater efficiency and safety to industry practises, but importantly, has also made the export floricultural products more commercially viable, especially for European markets where consciousness of environmentally sustainable and socially responsible production processes are important.

In addition to a cautious approach to production processes, other challenges that the Zambian floriculture industry faces include high costs of freight, limited bargaining power due to the relatively small export quantities and significant issues posed by currency fluctuations and unpredictable weather. However, despite all of these challenges,the export market continues to thrive.
Welcome to Flower Experts
Written for you by flower experts, giving you tips and advice on everything flower related. Read interesting flower facts and news.
Send Christmas Flowers
Latest News