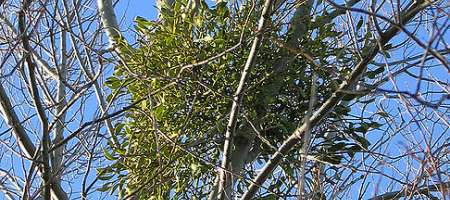 Mistletoe from France
by Flower Experts Editor on August 19th

Mistletoe is difficult to grow as it mainly appears on trees such as hawthorn and blackthorn trees. However it grows mainly on apple trees and is sustained in its abundance most commonly by orchards. Orchard owners collect the mistletoe and sell it around
Christmas time as it is a short lived form of income and would not sustain a year. It therefore falls to farmers whose primary income is from large orchards to collect the mistletoe and sell it as an extra to their primary product.
It is grown all over Europe in countries such as Germany, Austria, Switzerland, Eastern European countries as well as France. France grows perhaps the most amount of mistletoe as it exports this product. It is grown largely in the North of France in the form of hemi-parasitic plants. It is grown in the most concentration in the Caen Orchards,
Normandy and the Breton Orchards. It is grown in abundance in this country as it has always been particularly popular with the French people. Indeed there used to be special sellers of mistletoe known as Marchand de Gui who roamed the streets looking for buyers.

Today France enjoys the cross channel trade which became established since the late nineteenth century. Mistletoe is sold in huge quantities to London for example. This is because the UK does not have enough supplies to meet the demands of buyers at Christmas.
In the UK mistletoe is also grown and sold locally. As London does not have any nearby orchards mistletoe is in scant supply. France on the other hand has large orchards which can supply the demands of other countries.
Welcome to Flower Experts
Written for you by flower experts, giving you tips and advice on everything flower related. Read interesting flower facts and news.
Send Christmas Flowers
Latest News