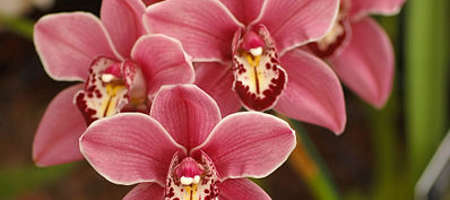 Cymbidiums from New Zealand
by Barry Marshall on June 18th
There are many different varieties of the Cymbidium as it has an unusual history of experimentation and production. Some exciting developments began in Santa Barbara, with new varieties spreading in the 1940s to Holland, Australia, France and New Zealand (where the New Zealand Cymbidium originated). With the return of the Cymbidium to New Zealand production in the Northern half of North Island began to flourish. It accelerated in the 1970s and Cymbidium orchids became the mainstay of export trade followed by lilies, callas and hydrangeas (which were also exported along with peonies).
The producers in New Zealand were best placed to produce new varieties, and developed the Cymbidium to fit the market - developing over one hundred varieties, in total. Producer companies today offer a multitude of varieties to their customers, but development in variety can take years as it takes this flower a long time to mature. However, as the conditions for production are good in New Zealand and there was much interest: many varieties were produced in comparison to other countries hampered by other planting interests and priorities. New Zealand, however, developed colours and shapes to fit the market demand. Some of the novelty colours developed, for example, are brown and bronze.
The Cymbidium is a seasonal flower usually grown between May and October and delivered to other countries by air freight. While half of the orchids grown are supplied to Japan where they are particularly popular, they are also in demand in the US and Europe. The majority of the other half of all Cymbidium produced is therefore supplied to Europe and the US.
Welcome to Flower Experts
Written for you by flower experts, giving you tips and advice on everything flower related. Read interesting flower facts and news.
Send Christmas Flowers
Latest News